Our studio is located in the iconic Postitalo, in the center of Helsinki; Within easy reach of literally everything.
Arriving to Wooli Studio
Wooli Studio is located in the center of Helsinki, at Postitalo. The official address of the studio is Elielinaukio 2 G, 00100 Helsinki.
If you arrive by car, there is plenty of parking space in the yard / under the property (P-Eliel). The studio is located on the 2nd floor of the building, which can only be accessed with a key.
You will, therefore, be picked up from the lifts near the K-Market checkouts (K1 floor). Below is an image that guides you through the correct entrance in more detail.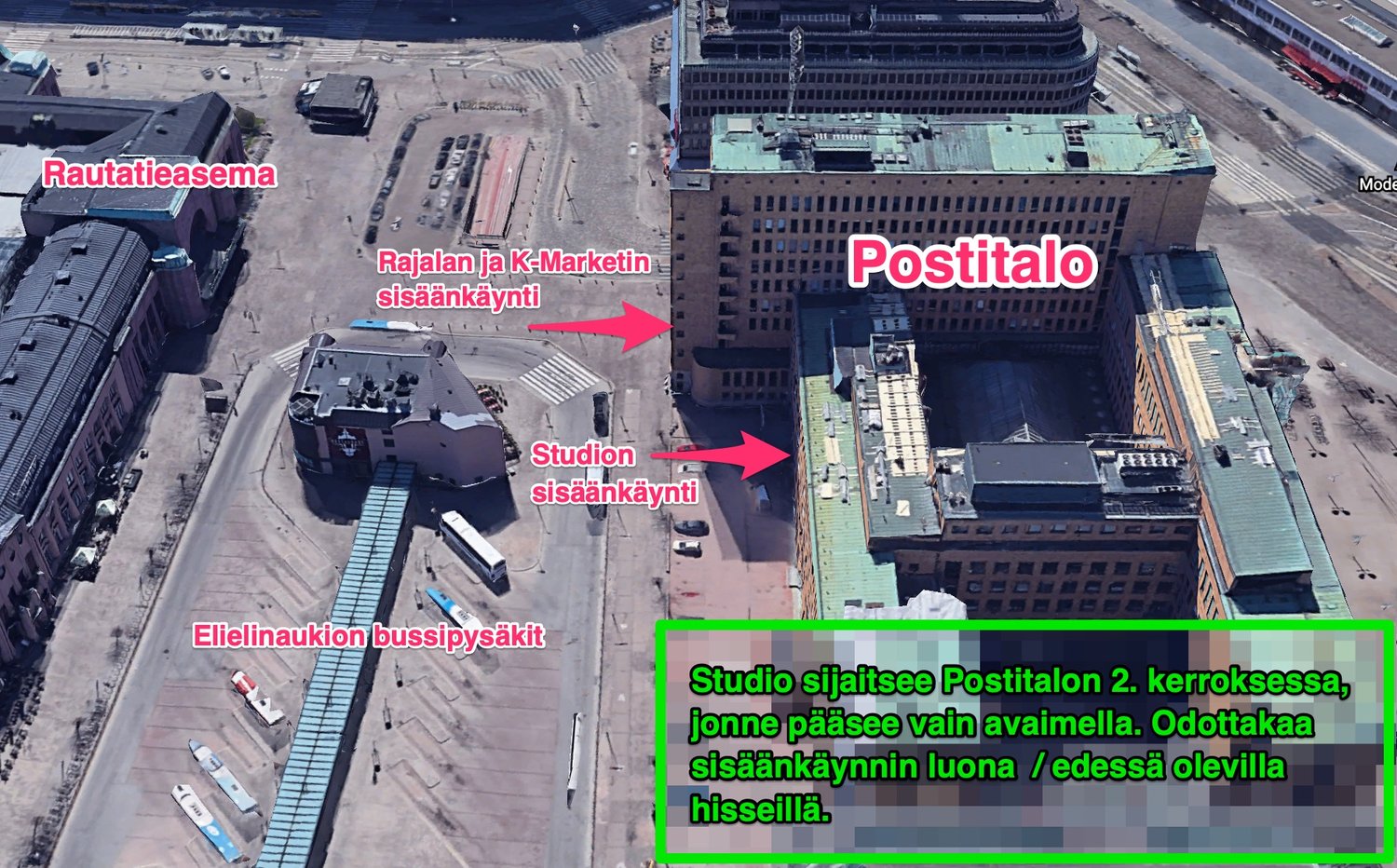 ---
If you have further questions regarding the studio, please book a phone meeting with us HERE!
Wooli Studio's address: Elielinaukio 2 G (Postitalo), 00100, Helsinki.
---
At the studio, we follow the following covid19 policies:
Hand sanitizer is readily available
We disinfect microphones and headphones after each use
We follow the official recommendations which are in force at the time
We take safety distances into account whenever possible
Please, only come in when healthy, thank you!
---
Avoid following accessories and clothing:
Rustling fabric
Noisy jewelry
Touch-sensitive (clicking) pens
Small squares, stripes, or tiny patterns on clothing (video podcast)
Shirts or jackets with high collars, like hoodies and windbreakers
The studio does not allow:
Food or snacks
Coffee cups
Open drinking bottles or cans
Small squares, stripes, or tiny patterns on clothing (video podcast)
Please note! If you want to meet and greet your guest(s) beforehand, you must book enough time to accommodate the extra time. Please keep this in mind when booking your recording time.